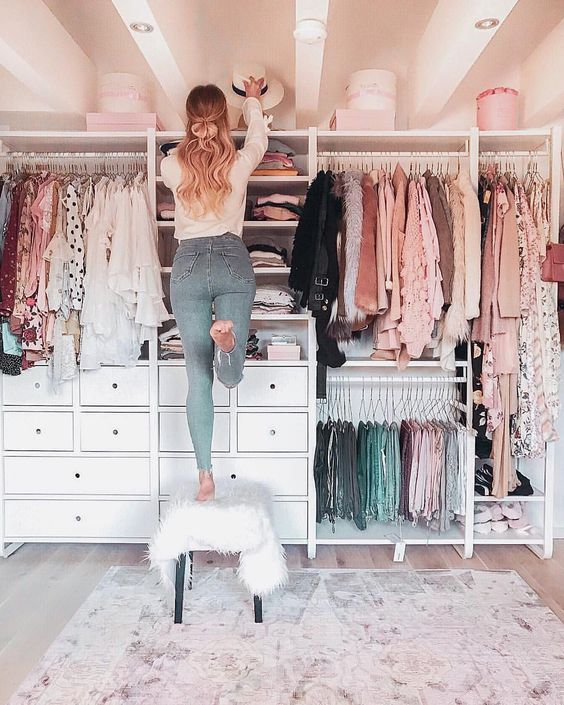 Large, luxurious walk-in wardrobes may be the stuff dreams are made of, but they are not always the reality. If your wardrobe is running out of space, there's still plenty you can do to make the most of it. Here are 5 ways you can maximise your wardrobe!
1. First In, Last Out Strategy
According to the book, You Are What You Wear, by Dr Jennifer Baumgartner, most people wear 20% of their clothes 80% of the time. 
To maximise your wardrobe, follow the "First in, Last Out" strategy! The way this works is to hang the clothing you have recently worn at remote corners of your closet, which ensures that you see the pieces you wear less frequently when choosing your outfits daily. This will make sure that you do not repeatedly wear the same few pieces of clothing all the time. 
This strategy will also help you realise when you should let go of certain clothing items! If there is a piece of unworn clothing that has been in your sight for a long time and you still haven't brought yourself to wear it, it's time to let it go!
2. Purchase The Basics
Wardrobe basics like a good pair of denim jeans, a blazer and a white button down shirt are essentials to help stretch your wardrobe. 
Basics that fit your body well are must-haves as they will never go out of trend, and are items that can be styled fashionably in many different ways, for different occasions.
3. Play Around With Jewellery 
In an ideal world, we would have an infinite amount of clothes in our wardrobe! However, many of us don't. To combat this, make use of different jewellery to change up your outfits. 
The type of jewellery you choose to wear is an important factor in the overall look and feel of your outfit. 
For example, when styling a simple black dress, wearing pearl jewellery can make you look classy, while wearing a colourful necklace can make the outfit look fun and happy.
4. Reference For Inspiration
While it is important to find your own style as trends come and go, it is also a good idea to refer to others' styles when you need some inspiration.
When you feel like you need to refresh your wardrobe, look to magazines or sites like Pinterest to generate new style ideas! You'll never know, you may have some similar items in your closet. Compare the items in your closet with outfits that you like from magazines and try to replicate them. Even if you do not have all the outfit components for the entire look, you'll know what exactly to look out for when you purchase new clothes.
This will also be helpful to prevent yourself from impulse buying clothes that you already have in your closet.
5. Marie Kondo What You Don't Need
Do you have items in your closet that have been lying around for years while you wait for the perfect opportunity to wear them? If that opportunity hasn't happened in the past year, it is likely that it would happen anytime soon.
Pick out the items you do not need and donate them! This will help you make space for new clothing that may go better with your current selection of clothes, aiding you in styling more outfits that you may prefer!
For the month of April, RoS is having a 20% Online Discount and enjoy Free Delivery when you shop online at www.roseofsharon.com.sg. Spend $200 on our website, and receive a $40 Voucher in return!