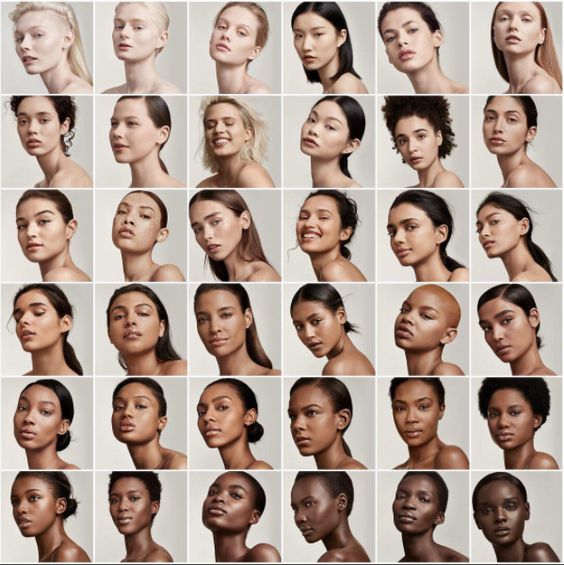 At Rose of Sharon, we offer a wide range of colours that will compliment each and every different undertone. To further enhance your looks, it's good to know your colour undertone and what colours compliment you most, be it your hair, nails or clothes. 
What is an undertone? is. An undertone is the colour from underneath the surface of your skin that affects your overall hue. There are three undertones – cool, warm, and neutral.
Refer to our Skin palette guide to learn what undertone you are. 
If you have warm skin tones, the best colours are rich reflections of nature. Wear colours that are on the warm side of the colour wheel such as red, peach, orange, gold, and yellow. You will also look great when you wear "warmer" versions of cool colours, like olive, orchid, and violet-red. Neutrals that are best for you include taupe, cappuccino, and cream. Avoid chilly colours like icy blues or jewel tones like sapphire or amethyst because they can wash you out and make your skin look gray.
If you have a cool skin tone, wear colours that are on the cool end of the spectrum and are inspired by both the depths of the ocean and of winter. Bright blues, emeralds, and deep purples will look great, along with frosty shades of lavender, ice blue, or pink. On the warm side, you can turn to ruby, bright rosy red, or super-pale yellows. With neutrals, you can rock cool gray, bright white, and navy. Try to avoid orange, tomato red, and strong yellows, which can clash with your skin completely.
For those with neutral skin tone, you can wear almost anything on the colour wheel . It is best to go for softened or muted versions of a colour instead of the brighter ones. Choose colours like a dusty pink or jade green. For neutral colours, turn to off-whites, coffee, mid-range grays, and black. Oversaturated colours like electric blue and magenta can overwhelm your neutral skin tone, but there's one big exception to this: never be afraid to wear a bright, true red as you will look amazing.
What are some colours that will compliment everyone's skin tones? Pure white goes great with everyone's skin. A light blush pink brightens any skin tone and brings out the natural glow of your face with a feminine look. Teal with a perfect mix of blue and green can be worn by anyone and is a great summer or winter shade. If you want to go dark, try eggplant purple, which acts like a neutral and accentuates your skin without overpowering it. 
If you are unsure of what undertone you have, do book an appointment with our in store stylists who will be more than willing to help you learn what undertone you are and will match you up with different colours! Click here to book your appointment now.