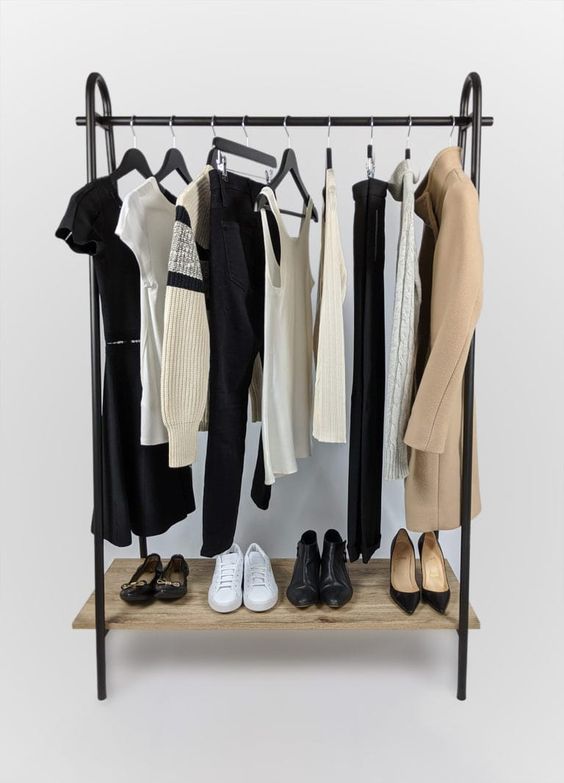 Due to the Covid-19 pandemic, many of us have been working from home and no one knows how long this Circuit Breaker will last. Most of us ladies have stopped wearing our favourite dresses and have traded them for comfortable clothing. Instead of shopping for more dresses to get ready to go back to the office, maybe it is time for you to start investing in basic fashion pieces for a classic and timeless wardrobe! 
Basic pieces are essentials that every woman needs in her wardrobe. These basic pieces allow you to wear them all year round and it makes your day to day dressing easier! They are the basic building block that can all be styled in multiple ways that make them perfect for any occasion and not to mention for Zoom meetings and running errands. It also brings with them the classic timeless appeal.  
Here are some basic fashion pieces you need for a classic and timeless wardrobe:
1. A Simple Black Dress
This is a must-have fashion piece in your wardrobe! You can create an infinitive number of looks with a simple black dress depending on the accessories. Wrap a scarf around your neck or throw them over your shoulders to polish up a simple dress. You can dress down by pairing it with sneakers and it is a perfect outfit for running errands. Having details like frills and texture on your simple black dress gives your overall look a timeless appeal too.
2. A Basic Cardigan
Cardigans are one of the most versatile pieces of clothing in your wardrobe! You can tie up your casual outfit by throwing a cardigan over. This helps to elevate your look and is perfect for a Zoom meeting at home. You may also swap out your casual outfit with a pair of trousers and a shirt with a cardigan over when you are going back to the office! Don't forget to try different patterns and colors when deciding what to wear. Your cardigan can be the statement piece of your outfit. 
'
3. White Shirt Dress
This is a wardrobe staple! They are comfortable and it can be worn in multiple combinations and on different occasions. Try pairing your favourite white shirt dress with denim shorts/jeans to go for the casual look on the weekend. You can also turn this fashion piece into a professional look in an instant by wearing a dress over or pair it with a pair of trousers. If you want to go for a chic and sexy look, pull the shirt up and open it around the shoulders to show off your neckline. Always keep in mind that you need to iron/steam your white shirt dress as wrinkles will never look good!
4. Black Blazer
You can't go wrong with a blazer in or out of the office! It allows you to layer it with any tops, dress or bottoms and it looks best when perfectly cinched to accentuate your waist. The combination of a blazer and shorts is an outfit that allows you to put together without second thoughts for a Zoom meeting at home. Besides that, it delivers comfort and it gives your overall outfit a classier touch. The best part is, after your meeting, you are able to slip it right back off. 
5. Black Pants 
Just as every woman needs a simple black dress, every woman needs a simple pair of black pants in their wardrobe too! This basic fashion piece will never go out of style and it allows you to create multiple outfits that are suitable for work, brunch, or even a night out with your girlfriends. Pairing it with a black blazer is an awesome choice for a smart and classy look. You may also opt for a t-shirt with your classic black pants for a daily casual fashion mix. 
6. Basic V-neck Shirts
No wardrobe is complete without a basic V-neck shirt! They can be dressed with anything from jeans to skirts. Besides wearing it alone, it is a perfect canvas for you to try out different accessories, bottoms or layer them with a jacket. Pair it with your favorite pair of denim shorts when you are working from home or running an errand. This is the easiest and breeziest outfit you can ever ask for! You may also try this ensemble for work with a blazer, pencil skirt, and your all-time favourite V-neck shirt. 
7. Scarf 
Every lady needs to own this versatile accessory to complete their classic and timeless wardrobe! You are able to wear it with a large variety of outfits, from casual to formal. You can spice up your outfit by wearing it as the last layer by throwing it around your neck or shoulders and let it hang loose. You may also simply wrap it around yourself to look more elegant. If you want to kick it up a notch, another great way to wear the scarf is to use it as a belt. 
8. Denim Jeans
Jeans are an everyday staple that can be worn on every occasion! You can easily style a pair of jeans to look different on every day of the week. Pair it with a Peplum top to show off your curves! And if you want to have a chic outfit, just throw on your tweed jacket to achieve that look. Therefore, it's time for you to start investing in a few quality pieces that come in a different fit like skinny, cropped and bootcut. Don't forget to get them in a different wash as well- light wash, medium wash, dark wash! 
9. Ballet Flats
Ballet flats are classic pieces that every woman needs to own! Besides being fashionable, it is comfortable and it can be dressed up or down with jeans, shorts or dresses. You will be surprised how it allows your outfit to transit seamlessly from shorts to a cocktail dress!
10. Black pumps
Classic black pumps are on top of the list of staples a woman should have! Give an elegant twist to a standard look by rounding off with a pair of black pumps. You can also get adventurous by pairing it with bold colours and printed prints outfits. Invest in a classic black pump that you feel comfortable and confident in that allows you to wear it out for a brunch or date night after the Circuit Breaker with your girlfriends! Don't forget that it helps to elongate your beautiful legs too!
Ladies, it is time for you to invest in these basic fashion pieces now to complete your classic and timeless wardrobe! You can create countless looks with them without splurging on other outfits. If you need help, do make an appointment to speak with our team of Fashion Advisors for a complimentary 1 to 1 session here. You may also wish to check out our website for more information at www.roseofsharon.com.sg.
Don't miss our Great Singapore Sale of 20% online discount with free island wide delivery! Receive a $60 voucher when you spend above $300 and receive $40 voucher when you spend above $200.
Happy shopping!